Fancy beds can promise you a more comfortable night sleep, and they look more visually appealing than those of standard quality and low-thread count sheets. You would definitely choose to purchase cotton bed sheets, but as you notice different varieties of cotton, you are left confused. Generally, sheets that are labeled 100 percent cotton are more likely made of lower quality cotton with shorter fibers and a shorter life span.
What are the Main Difference Between Egyptian Cotton Sheets Vs Pima Cotton Sheets?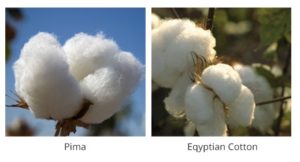 As per the Cotton Sage, The quality of the cotton is determined by the length of the cotton fiber. Longer the cotton staple length the higher the quality of the cotton will be. The best of it is called ELS or extra long staple cotton. While choosing the best for your bedroom, the quality matters more than the appearance. Both Egyptian and Pima cotton are of premium quality, but there certain differences that one must take a note.
Egyptian Cotton Sheets
Egyptian cotton is woven from the cotton plant 'gossypium barbadense', which is indigenous to Peru and the West Indies but is also grown in some parts of America. Authentic Egyptian cotton sheets are manufactured from extra-long staple or ELS cotton fibres are grown in Egypt. The climate in Egypt also allows for the suitable and utmost growth of the ELS fibre. Usually, these are considered high-quality sheets with many thread counts.
The history of Egyptian cotton says that in the 19th century when the Egyptian ruler, Mohammed Ali Pasha, used this cash producing crop or the Egyptian cotton to finance his army. Cotton is grown throughout the world, apart from Egypt. Egypt produces a wide variety of cotton including some ELS cotton but that is only a small percentage of the total annual crop. Most of the cotton grown in Egypt is common or average quality. This plant produces longer and thinner fibres compared to other types of cotton, and they do not produce lint and thus rarely they pill. It comes with a higher price tag that justifies its durability and long lasting features.
Prima Cotton Sheets
This is definitely one of the best fabrics presently available in the market. Pima cotton is immensely popular because it carries almost the same benefits as Egyptian cotton. But the price of it is not what may seem exorbitant. However, the type of cotton is not what determines the price. The process by which the fabric is made is what matters the most. In 1951, a high-graded ELS cotton seed was developed by the USDA on an experimental farm in Sacaton, Arizona. It was named Pima cotton in honour of the American Pima Indians who were the caretakers working on the farm. This newly developed Pima cotton hybrid has superior staple length and fibre properties.
Today, Pima cotton is strong and fine long-staple cotton or LSC and is grown in abundance in the southwestern United States, specifically in Texas, California, Arizona and New Mexico. The LSC is woven several times to bring out the soft, dense and long lasting Pima cotton. Pima cotton is often mixed with inferior quality cotton to keep the cost of the sheets easily affordable. Because of its high density, Pima cotton has lower absorption qualities. Moreover, it can also retain odours and stains more than Egyptian cotton.
Difference between Egyptian and Pima Cotton Sheets
Both Egyptian and Pima cotton are classified as ELS or extra-long staple cotton. They are silkier and produce a opulent looking soft fabric that is also incredibly strong and durable. It is resistant to common issues like fraying, tearing, pilling, wrinkling, and fading. Both Egyptian and Pima cotton share similar high-rated characteristics and even carry similar scientific name, 'gossypium barbadense' but their differences lie in their origin.
Pima cotton is mostly grown in the United States, and Egyptian cotton develop and grow the best in the sultry climate of the Nile River Valley. Both Egyptian cotton and Pima cotton, if authentic offer exceptional quality. Unfortunately, many cotton products labeled "Egyptian" or "Pima" are, in fact, made of subordinate category of cotton. A latest research showed that 90% of cottons sold as Egyptian or Pima are not original or pure at all.
An ideal bed sheet is one that is not only appealing and attractive and suits the room where it is spread but the factor of its superior quality is what that it will always set them apart from the rest. Different material of the bed sheet will provide you with a better experience and sleep. Therefore, a proper research and knowledge is important in choosing the impeccable match for you.